Amanda Peppard at Suite Pieces
Amanda Peppard at Suite Pieces recently did this great blog post on Efex. We love sharing what our clever dealers have done, and Amanda always hit's it out of the park. So directly from the Suite Pieces site here is her post.
Have you ever looked at a piece of furniture or blank wall space and just know that some small detail is missing? One small detail taking it from just fine to OUTSTANDING?! Efex Mouldings are your solution! Efex are bendable latex moldings that easily apply to just about anything with simple contact cement.
Efex can update or transform any space. In our Massapequa location, we're always looking for ways to display our awesome products & dress up our space. Massapequa is our girly store, so we have tons of fun finding new ways to glam her up. We decided to transform two of our steel doors going to our bathroom and office. We used Small Bead Trim and Greek Key Trim applied to make it look as if the door was paneled. We then added Tempaper® Removable Wallpaper in Damsel Textured-Bisque on the beaded door & Pearl Plaster inside the panels of the Greek Key door. (Don't forget to read out blog about Tempaper®!) This is just one example of how efex can create depth and completely change a bland space!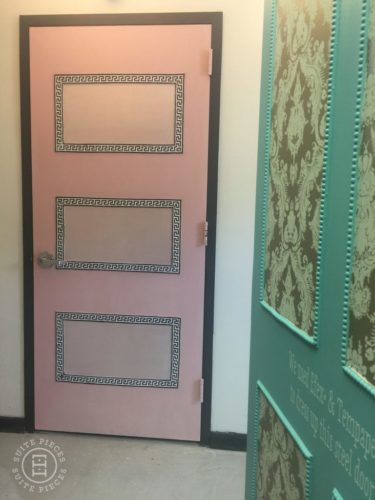 Efex can be used in any room as well! They adhere simply to mirrors in bathrooms, kitchen cabinet doors, even outside on your terra-cotta pots. (Just make sure to bring them in durning extreme winter weather!) You can even use them to spice up your party decor! The Studios at Suite Pieces' Arndt's & Crafts used Efex French Ribbon for this communion centerpiece. How fab is that?!
Efex can stretch up to 2% to fit your space and once you correctly glue it using Contact Cement, Efex can be painted, stained, or gilded! You can use anything from Miss Mustard Seed's Milk Paint  to Chalk Paint® to General Finishes and even Gilding Wax! Just apply your favorite product to get any look your heart desires. From shabby chic, to elegant French…the possibilities are simply endless! If you want to learn more about Efex, or just have general question on apply check out our how to video!
Thanks for stopping by…we hope you'll come visit us soon ; )
Thank You Amanda for allowing us to share your great designs.