Create with Stacey, Lydia, and Samantha.
it sounds like a PBS show. And, last week that is exactly what we tried to do 🙂 (Tried is the operative word here)
Stacey Christensen, Samantha, and I spent two days being creative.The stated goal was to have Stacey and her magic paint recipes come to Maine and we would all create French designs. It was one of those times when you just work and play with new ideas, new designs, and new painting techniques.
Now a quick geography test, Stacey lives in Alabama. Maine is next to the Canadian border. She arrived on Wednesday, not Tuesday as I had in my calendar when I blithely drove the two hours to the airport :).
We spent two long fun filled days creating three trumeau mirrors and in the fullness of time 20 plus videos. The bloopers are definitely the funny part, but I'm not certain they will ever make it to You Tube.
For those of you who have made a video you will know it's not that easy. The goofy looks, the smirks that you really don't want seen by anyone just somehow sneak into the shot.
Dom, the head of Efex manufacturing and Samantha, the head of everything else, were there to drive the cameras and keep us on track. At one point they decided that around noon Stacey and I needed to lighten up and suggested wine, which Mr. Maine Country Home provided in copious amounts after the day was done.
The end result was hours of great video including a cute if campy Facebook live video making Christmas ornaments and introducing Dom and Samantha.
What did we create?  We created new trumeau mirrors. Not being content with just a simple paint job and one embellishment we went to town.
Everything from choosing your Efex design to making your own mirror. For now, we have to let the video clipping mavens do their thing and in the fullness of time we will reveal all but for today,
I thought I would share some VERY candid shots.
And give you a sneak peek into our two-day trumeau creation sessions.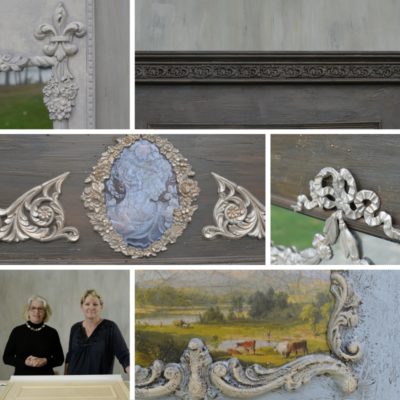 To sum up the week creativity is inventing, experimenting, growing, taking risks, breaking rules, and having fun. We did all of that in just two days.
Thank you, Stacey, for coming a long way. Your creativity is contagious.
xoxo Lydia