Crud…the secret sauce to get a rustic finish
Today I'm going to change your relationship with crud.  No, I'm not talking about the stubborn white stuff you can't scrub off your shower walls no matter how much elbow grease you apply.  And for my readers in ski country, I don't mean powder with tracks.
I'm singing the praises of sawdust, a.k.a. "crud", today's resist in my series of posts on How to Get that Chippy Look.  I was surprised, too, when I first learned this technique from our Efex stockist Janet Metzger of the Empty Nest.  Even my husband thought he was cleaning up after me when he tried to wipe the sawdust off of my unattended work-in-progress!
But crud is easy to make and you can probably get the sawdust for free at your local hardware store. Just sweetly ask the guy in the lumber area if you can please sir have a little. Don't forget to BYO baggie!
Read on and we'll show you how easy it is:
Step 1 – apply a base coat of paint  to your project. We used two coats of Duck Egg Blue on our sample board.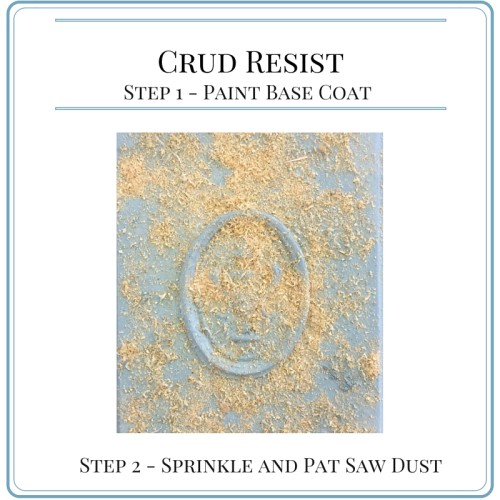 Step 2 – While the paint is still wet sprinkle the saw dust on your project. Yep…right on top of the wet paint! it might sound a little crazy but we promise it works.
Pat lightly so the saw dust adheres, it won't all stick to the paint but that's OK. Let the paint fully dry about an hour.
Step 3:  Once your base coat is dry paint over the saw dust with a contrasting color.  The surface will start to look crusty and messy, but hence the term "crud".  Now you should have a nice chunky finish with sawdust everywhere.  (You can probably understand my husband's reaction!) In the end, you'll get a very rustic, chunky, authentic finish.
Step 4: When the final coat is dry use a razor or a paint scraper to gently scrape off the saw dust.  It will immediately start to take on a very rustic finish, like an old barn door.  You can even scrape right through to the wood.  Get rid of the mess, and clean it up.
Step 5:  Finish by waxing and sanding.  Use clear wax first, and then add dark wax and voila: Patina in no time!
So there we have another ways to get the chippy look using a resist.
The chair in the photo below was refinished using the crud technique layering Annie Sloan Chalk Paint® in Old White and Old Ochre with a base of Aubusson Blue. You can even use crud on  Efex appliqués to make the moulding look like an old worn wood carving! Like it's been there for years and years.
If you have any questions please feel free to comment or send us an email. Our dealers carry many of the products used so stop by a local stockist in your area.
Caio, until next time when we show you how to get patina using other techniques.