DIY Trumeau Mirror
DIY Trumeau Mirror are all the rage and in this case, we can see why. We are totally smitten by this elegant Trumeau.
This one was done by a very clever customer in Florida. She loves French style decor and has a wonderful eye for style. This mirror sits between two lovely antique armoires.
The centerpiece of the mirror is our very own M1, the newest large French medallion added to the collection earlier this year.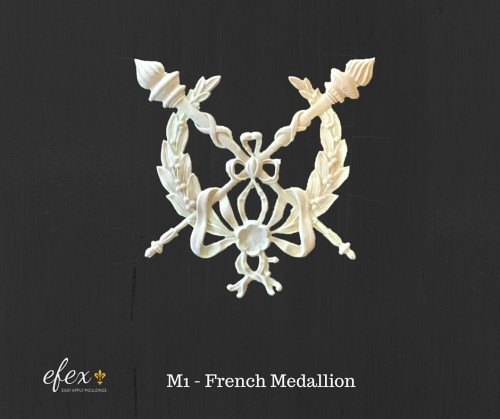 To frame M1 she used D8, SW3, and B4 at the top.
Also, to draw the eye to the base of the mirror she added two R39 urns down in the bottom corners of the mirror.
She painted M in French Linen and Old White with some superb layering techniques and then clear waxed the entire project. A little gold gilding to bring out the details becomes the icing on the cake.
And let's talk about the styling for a minute. Do you think she'd come and do all our houses? That rustic metal cage, and the two candlesticks to add height, it all comes together seamlessly to accent the fabulously French aesthetic.
Voila, c'est magnifique.
So tell us, which Efex would you use to makeover a trumeau mirror?? Leave us a comment with your ideas!