Happy Holidays From Efex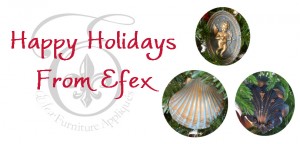 Happy Holidays From Efex, If you are looking for a fun and easy Christmas gift for all your DIY friends. Try Efex and paint. Pick one of 160 Efex styles and pair it with a sample pot of paint or gilding wax for a fun gift. Or take out your paint and gilding wax and turn a few Efex into Christmas ornaments.
With the holiday season in full swing don't forget Cyber Monday. Our online dealers are fully stocked and happy to help you with your projects and special gifts.