Finding Inspiration…then and now
Finding inspiration has never been easier. In the past century…. oh so long ago in a place far away called the 60's, 70's, 80's, and 90's inspiration was harder to come by. You actually had to wait for the next month when magazines would arrive with new glossy photos. If you add the numbers 18 to those decades, i.e. 1890, you had to do the grand tour or if you were lucky and lived in London you looked in Mr. Selfrdiege's window.
Then came Martha… the one and only. She deserves credit for bringing us quality inspirations in books and magazines. And it wasn't just cooking. She and Julia got themselves on TV to inspire us. With the dawn of the new century, we all embraced the internet. First Google, then Facebook, and now Instagram.
Instagram is the inspiration generator of today. It's how we get ideas. It's where we can see things and then dream or ponder about how we make this, or achieve that look. And it's not just home decor. There are so many pages out there with great daily recipes for sweets and or health foods, how to apply makeup sites – almost anything you can dream of.
I love Instagram and one reason is finding all of the cool uses others have found for Efex. Often found under #efexusa, for today's post we rounded up a couple of our favorites:
The best use of our acanthus leaf trim we have seen in a while. Used on both the table skirt and the chairs it makes a statement and takes the look from post-modern oak to regency in just a few steps. Note the detailed trimming of the acanthus leaf on the chairs. Bravo, well done.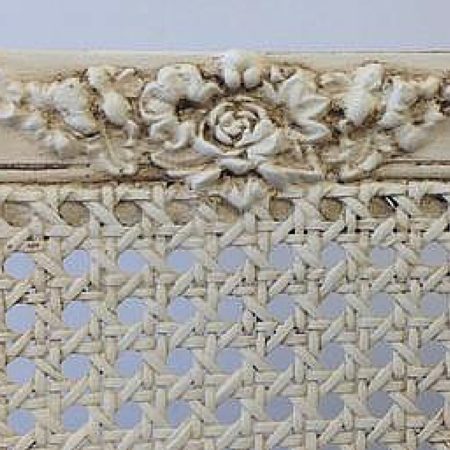 Picture from Grace and Glory
The use of this simple drop on the chair back is just brilliant. One rose drop and the entire look has changed. Notice how they have either dark waxed or glazed the embellishment so it looks a little old and dirty. Not too much just a little. The wax really brings out the detail in the design.
Finally, let's look at these lovely frames from our friend and dealer Janet Metzger at The Empty Nest. Oh so simple, and oh so sweet. Just add bows and drops for instant luxury. The nice part is Efex are always bendable (honest! No steaming or forming, just bend them to fit!) so you don't have to worry about irregular shapes and curves.
Enjoy xoxo Lydia