Efex and Gilding Wax
Gilding wax and Efex go together like a hand and glove. One is the form and substance; the other is the design and glitz.
This week we worked with several colors of gilding wax mixing them together and with paint to see which combinations we liked the best.
Of course, there is always an easy starting point: Kings Gold. This shell CC 13 has a simple coat of wax over the top. Not even any paint – just waxes.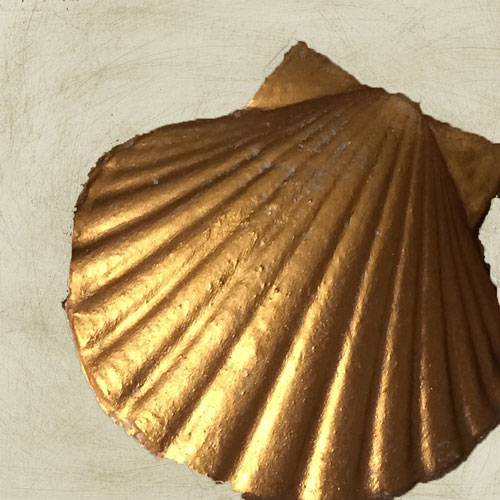 This set of scrolls (SC 49) was waxed with a two-step process. Start by mixing Tin gilding wax with mineral spirits to dissolve the wax, and paint with an artist brush.
For a second coat, mix Tin and Kings Gold with mineral spirits.
(Psst. I got this recipe from my friend Stacy's Cabinet Recipes)
Gilding M
It turned out we needed a new set of pictures of our medallion, M, so two of these lovelies began a transformation from buff colored to faded patina.
One medallion's transformation used Tin gilding wax and Florence Chalk Paint® by Annie Sloan.
The process for is very simple. Mix a diluted gilding wax and mineral spirits and pour out a small sample of paint. Dab your paint brush in the Florence and into the Tin, then, starting at the top of the moulding and working in sections, paint and wipe back. Repeat all steps with different amounts of wax and paint until you have the desired look. Note: use tiny amount of paint to larger amount of wax. Doing this rather randomly I discovered that  the Florence would go in the cracks and then by adding extra wax and lightly brushing and rubbing this is the effect you make.
Having finished the Tin medallion, I moved on to Copper and Florence. Using the same process, work your way around the piece rubbing and adding here and there to get an aged copper patina:
Our last example we  painted straight Tin on the rosette R 77.  Paired on a black background it looks stunning:
You can get your gilding wax at most of our Efex retailers or The Southern institute of Faux Finishing.