Elegant Simplicity
Elegant Simplicity is a hint of something grand. It is a small formal touch mixed in with a simple piece of furniture or home decoration. So often it is these simple touches that can be used to create a major pop of excitement in our home decor.
This weekend I sourced the web for our top 5 examples of elegant simplicity. All are projects that you could create with our bendable moldings and appliques. The essence of elegant simplicity is using just one or maybe two embellishments, often painted in the same color or tone of the original piece. In this case, the embellishments are not intended to pop out at the viewer, rather they are intended to blend in and add just a simple touch of class like a silk scarf or simple pearl earrings.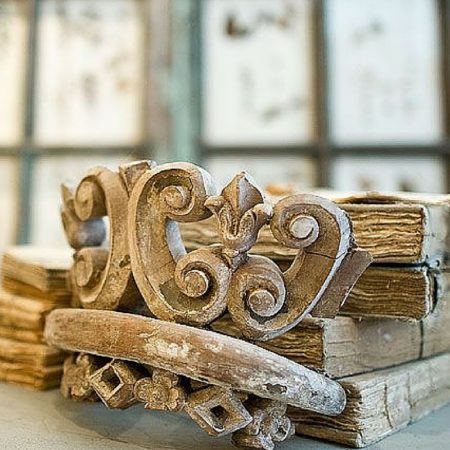 1 –  Originally used as a decoration on a door, wall, or armoire this lovely woodcarving now serves as a simple table decoration. The paint, worn almost completely off over time, alludes to the story waiting to be read between the covers of the antique books. The colors are like a fine Belgium flax linen laced with white.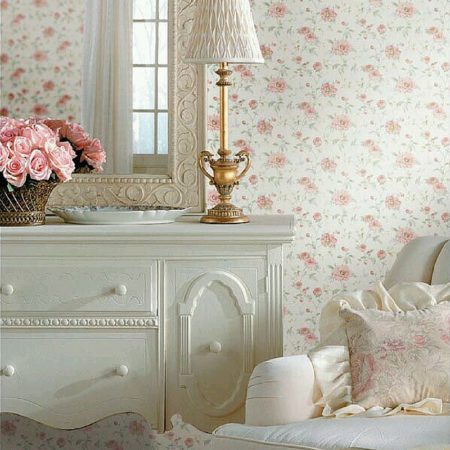 2 – This simple sideboard shows how the smallest and simplest embellishment can change a piece of furniture.  Only one fancy strip in-between the drawers is all it takes to reach elegance.  One tip for elegant simplicity is to paint your masterpiece in a single light color.  It's easy to imagine a very simple sideboard getting a complete makeover with white and one small strip of trim. I would think of using the Efex trim T36 for a dressy feeling, or the T42 for an art deco look.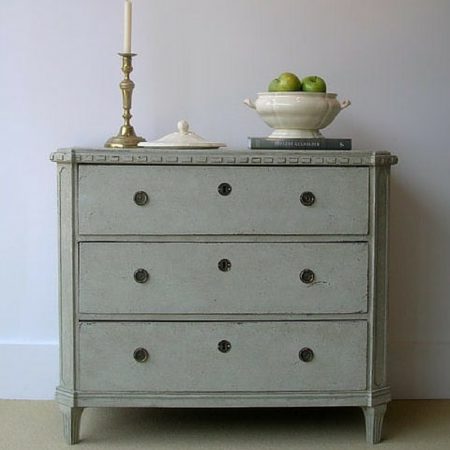 3 – Another dresser with elegant simplicity. The dentil molding along the top edge of this piece adds a special touch. The soft grey-green color is reminiscent of a foggy summer day. You could easily achieve this look with our T19 and some paint.
4 – This Gustavian bench is my personal favorite. Two rosettes and our T9 trim would be all you would need, with a little gray paint and black wax or glaze to finish it off. I love how this trim is painted in a dark blue which pairs so well with the gray. A little pop of color – not too much.
5 – This mirror shows how painting the embellishments the same color as the frame recesses the swags and makes it seem more simple or maybe country style, whereas gilding the swags and drops would make it seem more formal. This way, it's informally formal.