Meet Today's Creator
Yesterday we showed you some of the fun projects that she creates today a special Q and A with Janet Metzger of The Empty Nest. This week, Janet and I hooked up for an interview about her creative process and how she became a creative.
Lydia (Q) Your provide so much inspiration to others, How do you get your inspiration?
Janet (A) My top source of inspiration is fashion. Especially for design and color combinations.  I will see a color combo I would have never have dreamed would go well but it looks good so I go with it. I also see colors and think of my go to paint pallet Chalk Paint by Annie Sloan. The other day my husband was dressed in two colors and I immediately name the colors they look like in my pallet. And since I love mixing colors, applying them to furniture was my next step.
Lydia (Q) Where did you learn art and how to draw?
Janet(A) I really don't think of myself as a fine artist. But in 1987 I told a decorative painting class. What they taught us was how to copy simple forms, like flowers and birds. After a while I had traced and drawn enough of these forms that I was able to do them without tracing. So it grew from there, now I start with sketches first and then paint.
Lydia (Q) I see so many roses and rose prints including fabric on your page. How did you fall in love with roses?
Janet (A) The love of roses is really recent. For years I only liked them as flowers not as decoration. In the past my home was full of pine furniture, dark greens,  Then I met Antoinette the color, and fell in love.  As a color I think of it as pink for grownups. From there I've expanded into roses, rose chintz fabric etc. When I paint my free form roses they are not perfect art, the edges are softer and they are more of an impression of roses. This also pushed me to expand into other shades of pink. So the roses and the pinks all came in one rush of inspiration and I've worked on them ever since.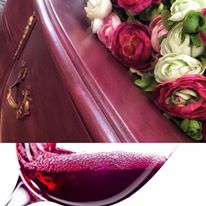 Lydia (Q) I love your little girl Hortensia, How did you get inspired to draw her and where did the name come from?
Janet (A) I started on the drawing during a three day blizzard. We were house bound and i just started sketching and out she came. Then to find a name I though she looked hospitable and the phrase Hortensia is Hospitable just popped into my mind.
Finally last question, Describe your style?
That's easy English Cottage Floral with a French Twist.
We hoped you enjoyed this interview with one of our creative dealers. As we go through the fall we will be trying to do more of these so you can continue to meet the creatives.