A very creative use of our efex™ scrolls take this plain dresser from Drab to Fab. To showcase some scrolls take a look at this great makeover from Stacy Christensen  owner of Faux Studios in Alabama.
Stacy started with two designs from our line of Scrolls SC4 and SC7
To achieve this look Stacy turned the scrolls on their side and matched them up.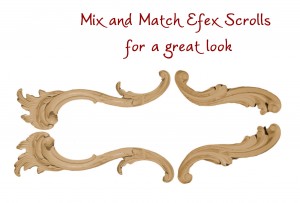 Then repeated the pattern on all of the drawers. How clever is that!
You can see Stacy's work at all of her three shops, Faux Studio Designs, Soul Kitchen Interiors, and The Paint Shop.