My friend Amy Chambers had a great trip to France last fall. After
spending several great days visiting the palace of Versailles she arrived home in Boston
so inspired. Of course ,the question is what to do that can adapt to today's lifestyle.
 Leave it to Amy to pick the perfect fit.
Introducing the Palace Door  a great how to in Amy's own words.
After visiting Versailles I came home quite inspired.
This is a room in Marie Antoinette's casual palace, the Petit Trianon.
As you can see its more formal than how most of us live,
but if you could take away one decorating idea, I think it would be the molding.
Look past all the gilding and brocade and you will see
the most beautiful moldings on walls and doors and fireplace surrounds.
The moldings in the small country palace were painted in muted colors
with the raised relief in white.  This inspired me to want to build my
own palace door as a wall decoration.  Why not? Large artwork is hard to find,
and I like the idea of hanging a door on a big wall,
or propping it up as a display piece as it makes a great backdrop for that empty corner
of the room. I had a few old doors in the shop and last week Gina and I transformed
it into a Palace Door using Efex appliques and Chalk Paint. Check it out!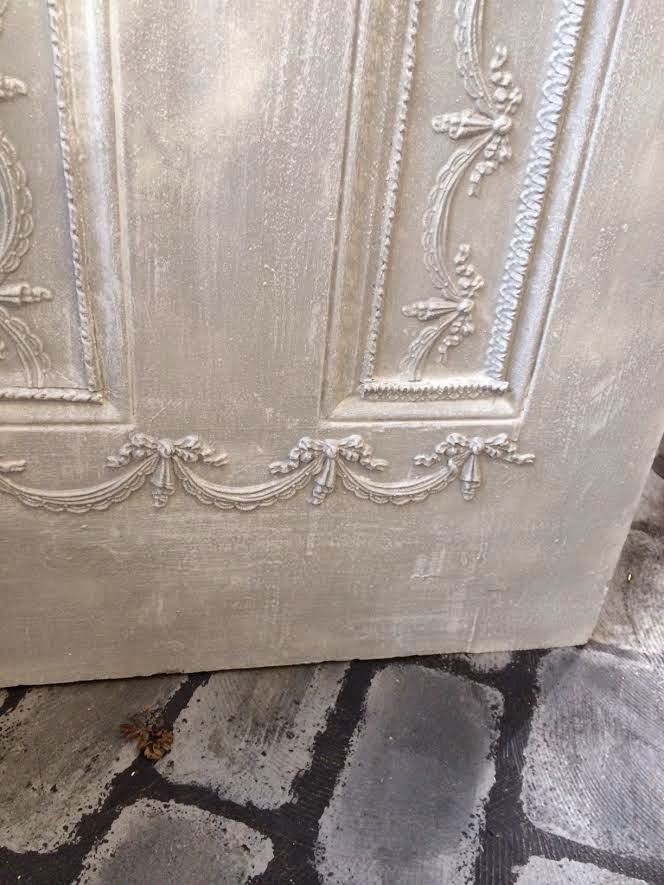 This is a finished shot of the bottom of the door.
This shows how the Efex appliques look after we attached them to the door.
Another view looking at the bottom of the door.
The door was an old white door,
we did not prep or repaint, we used the white base as our starting point.
 Gina and I played around with the Efex in different combinations.
You can use scissors to trim the pieces to fit perfectly.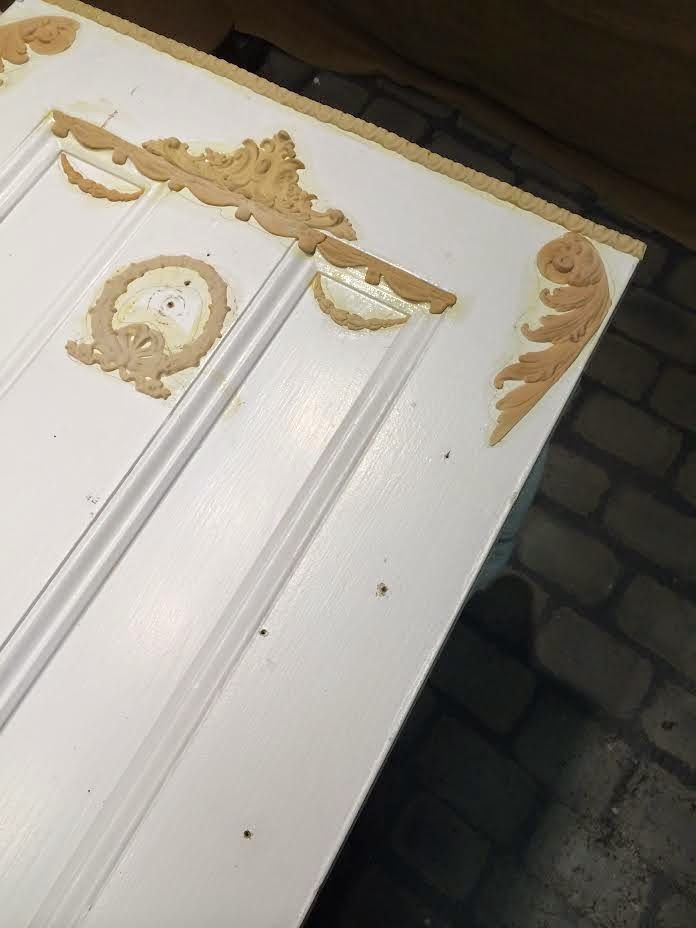 After coming up with something we thought would look good, we painted the Efex with
Pure White Chalk Paint so it would match the door color.  I don't have pics of that part.
We added some texture using crackle, but that is an optional step. The Palace Doors in
Versailles were really not very crusty looking!  I just like things a little bit more rustic, so
we added some texture with a crackle medium. Then we applied a custom mix of Paris
Grey and Pure White over the entire door.
It's pretty amazing how you can transform something using these Efex.
We love our Palace Door and will be offering a workshop this spring
at Maison Decor to anyone who wants to haul in a door and create this look.
You can choose from our inventory of Efex and create the door of your dreams.