Peintre de l'illusion's owner Johanne Bilodeau is one of my many clever girlfriends, as well as one of our retailers in Montreal.
Ok, confession time, I can barely walk by a bookcase without moving something around. So when the craze of painting books became vogue last year I vowed to try it. Of course, with the whirlwind of life going on I have yet to paint a book. Thank goodness Johanne did it for us!
Book before: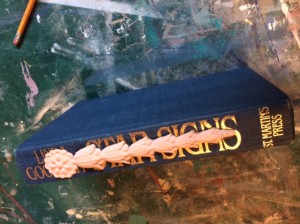 Book after:
Not only did she nail the patina when painting the book covers, but it is a great way to add a splash of color to a well styled book case.  Here she used D8 drops on the spine of the book and just painted away. Love the addition of a stencil on the front cover too.
It's simple, it's easy, and it will make your bookcase stand out in a crowd. What more could you ask for?
xoxo Lydia