Escutcheons from New Orleans
Stacy and Virginia, two of our friends and fellow Efex retailers have been at it again. You may remember them from the story of M.
Last week we all met up in New Orleans for a conference and of course a little fun, food, and shopping.
They had arrived early to go to Jazz Fest so they had a two-day head start on the shopping part. The minute we hooked up they said, "Look, what we found!".
Two of the greatest escutcheons we have seen in a while. Both are petite around 2" long and 1" to 1.5" high. Unlike our other escutcheons they run length wise, not vertically.
Wow, what great friends and great finds, they are now "On the list" to become bendable Efex.
And speaking of escutcheons, we see them everywhere. They come in all sorts of finishes. Often they are gilded with gilding wax or foils. Yes…the bling is nice.
Some are finished with dry brushing a complementary color like Janet's armoire makeover with E3.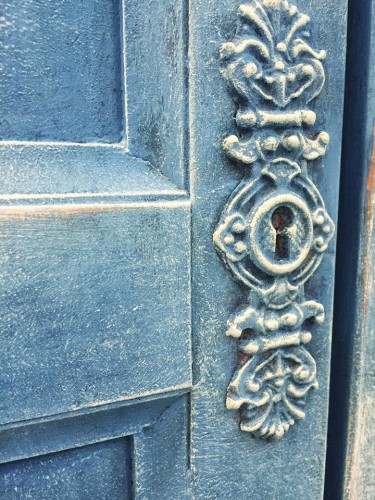 But, for a really aged look, Stacy hit it out of the park with another one of her great finishes. This time on an E5 escutcheon.
It's a rusted patina that we just love and what a great way to have an old piece with that aged worn patina look stand out in a crowd.
You can join the Faux Studio Designs monthly finishes club and get new ideas in the mail every month. It's a great idea filled with great recipes for finishes.
Ciao for now – Lydia