Top Five Efex Stockist Projects of 2015
At the end of an amazing year for the Efex team, we want to highlight some of the top projects of our creative Efex stockist team. Now with over 90 dealers world-wide and a wonderful response to this new product, we decided to really take the plunge and expanded by purchasing Efex By Design in New Zealand. We are presently moving the production to our new facility in Rockland, Maine.
When we started this adventure 19 months ago, I never dreamed we would have this great a response. Of course, our growth is all about our dealers. Our stockists are some of the most creative people in the decorative world today. What makes them so unique is that they are all different. They all have different style and approaches to painting and decor. What you can learn from any or all of them is amazing.
So, a big thank you to all our dealers. Over the year you have all done some amazing projects, both with and without Efex.  Drum roll please!
Amanda Peppard at Suite Pieces on Long Island New York is a design force to be reckoned with.
After winning Flea Market Flip on HGTV, she has continued to build upon her creative strengths With three stores and some of the most creative workshops we have ever seen. We loved her video on using Efex.
Janet Metzger – Creative be thy name. I am convinced this lady from Warrenton, Virginia never sleeps. Her table is awesome (below), and so is her great video.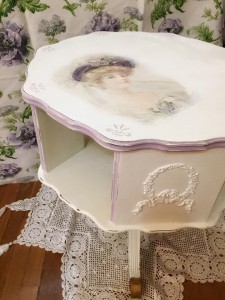 Nicole from the White Pear Studio in Ontario had a very creative use of Efex using it on glass.
I just love this neo-classic look. What a great way to up-style almost anything:
Johanne is our Efex distributor in Montreal, Quebec Canada, and she is also a gifted artist with mixed media and paint.
Her french bedside table was a big hit with our viewers:
From Australia Allison Gregory at The Little French Provincial Shop shows how simple a table renovation can be: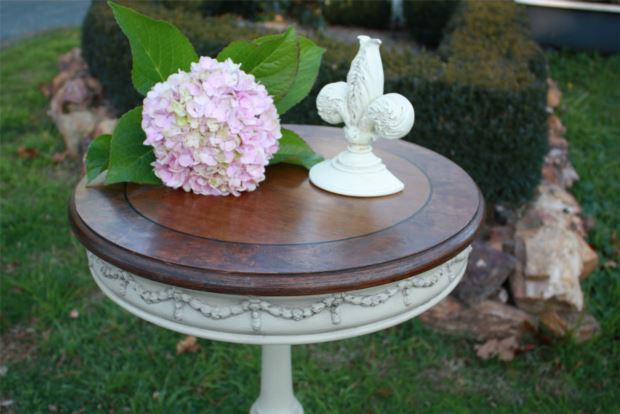 Thank you again to all of our dealers for their support. To find an Efex stockist near you just jump over to our dealer page. You will be in for a great treat when you stop by any of these stores.