Weekend Get Away – Montreal
As a New Years Resolution hubs and I promised ourselves to have more weekend get aways. Just us! When Secret Escapes had a super deals on hotels in Montreal.
Founded by the French in 1641 Montreal is the largest city and capital of Quebec Canada. Montreal is a city I've always been fascinated by. It is perfect, a medium size city with the style of Paris, old European flair,in North America. Only 5 hours away by car.
It's not very far from mid coats Maine but as Burt and I said, "you can't get there from here." In Maine there are no major roads that run east west. Our choice of local two lane roads was OK, but…. in northeast Maine they actually are logging roads with sighs that say " DO NOT DRIVE HERE WITHOUT CHAINS, NOT PASSABLE IN WINTER!"
You guessed it we found one. Our Pathfinder blazed a trail, with Lydia the passenger making non stop editorial comments.  It was the start of a fun 48 hours.
Once we arrived  we were off to visit my friend and fellow Annie Sloan Stockist Johanne Bilodeau. Johanne is also a stockist for Efex Moldings which is our manufacturing and embellishment company. As another friend put it she is also a faux painting power house. Her shop Peintre de l'illusion specializing in custom painting and all things paint is just so cute.
She has done some wonderful pieces using Efex. They are just so clever. The patina she adds is a perfect fit.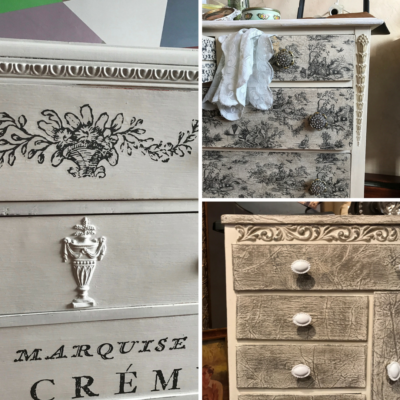 Johanne is also a wonderful fine art painter. Her oil painting are just striking. I just love to one with the fish.
That night is was a lovely dinner with Johanne and her wine importer husband. Need I say more. The wine, the food and the friendship, It was just like we were in Paris.
Our last day the temperature dropped even more, so it was off to RESCO, the famous underground shopping area for a bit of retail therapy. RESCO is a vast network of underground shops and tunnels the largest of its kind in the world – covering much of the downtown area.
We drove home the next day remembering  a great time. When we got to the US Canadian border we did have a choice. Or, someone has a sense of humor.
xoxoxo
Lydia